Media training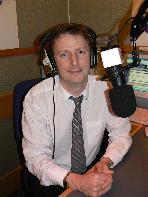 Matthew Clarke
How many of us would love to embrace the opportunities that a good TV or radio interview can present, but we feel too nervous, hate the sound of our own voices, or are not confident enough in our own abilities?
If this describes how you feel when there is a chance to be interviewed, then KernowPods may just have the solution. We are about to launch are new 'media training' courses for business.
These will also prepare you for when the media are demanding that you make an appearance before the cameras.
Matthew Clarke will take you, in a group situation, or on your own, through the following:
what journalists are looking for?
planning what to say.
presentation: voice & body
what happens if I'm being interviewed and I cannot answer a question?
interview practice infront of a camera.
feed back on how you performed.
a DVD to keep of your performance.
This is all for One-to-One or groups of up to ten people and lasts for a day.

 price £850 )

 How about organising a day for yourself and some clients as a way of building that special relationship?

To book Email – matthew@kernowpods.com or cornishlivingtv@hotmail.co.uk